/ Green Heroes
A Plant Can Be A Family Too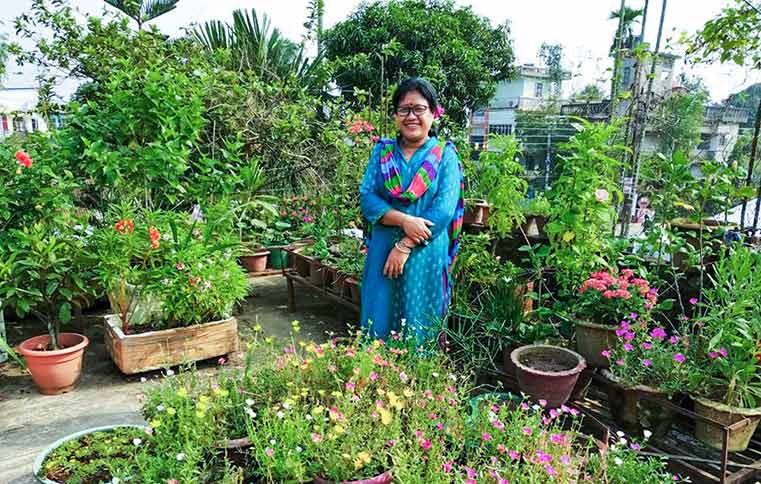 When I was little , My mother and I used to do gardening together. Although my interest was mostly to play in mud and water, The part I specially loved was the Geosmin, The beautiful scent of soil when watered.
It is so soothing and puts you in good mood instantly. Even Today I love our garden swing,it's my favourite part of the house. Having a garden in your own house does that to you. Maybe that's how I strongly connected to the statement of our next "Parichay" hero, "The relationship that I share with my plants has no words to express, my kids believe my plants are their siblings. My garden is a part of my family!"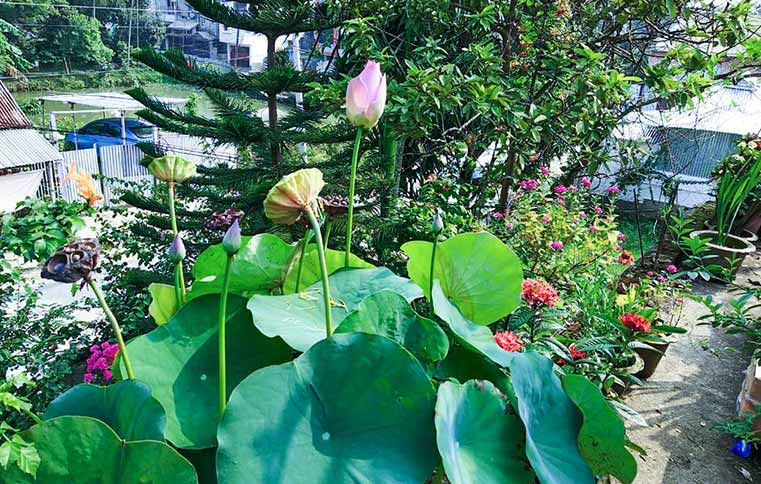 Yes you read it right, Our hero Mrs. Syamasri DebBarma Loves her plants like her family, and her family doesn't turn Green with jealousy, with all the attention she gives her green kids. And to the fact that she hails from Agartala, Tripura, one of the beautiful seven sisters our country is totally blessed with, we can say that nature is in her blood.
Mrs. DebBarma started gardening at the age of 20, in her college time. " The passion for gardening was always there from childhood, ended up doing my degree in Bio Science also may be because of my interest!" she shared with Parichay Team. As a motivated and self driven person that she is, she likes to inspire people to take up gardening and live a healthy lifestyle.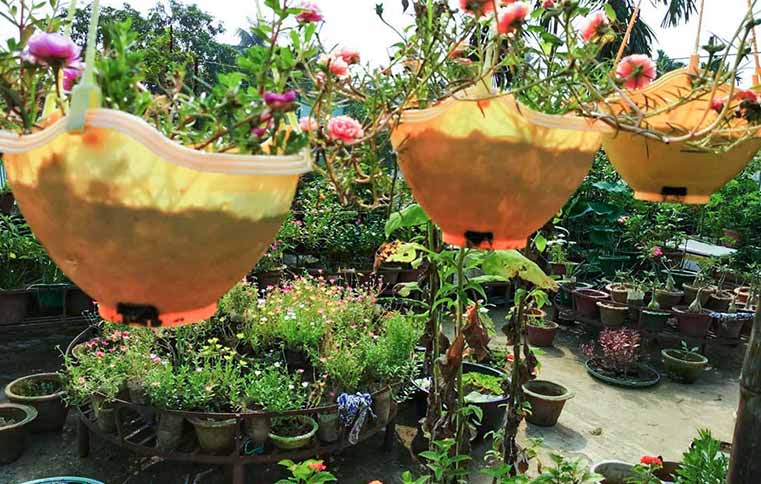 "I keep sharing my views regarding gardening in a better way to my friends for 30 years now. Joining the social media has given me access to aware more people into healthy and organic gardening. Recently I have inspired 20 people to start gardening. I also share my plants and seeds I collect to my online as well as offline friends", she said.
We were really interested to know about her garden and her gardening techniques which inspires people. What she shared with us, just proves the point of our series, "The change starts from home." Her techniques are simple and effective and cheap, which gives beautiful results. When you'll see the photos you won't help but stare at them. Personally I stared at the strawberry and that did set my winter mood, Mahabaleshwar vacation plan plus strawberry and cream dream in 30 seconds!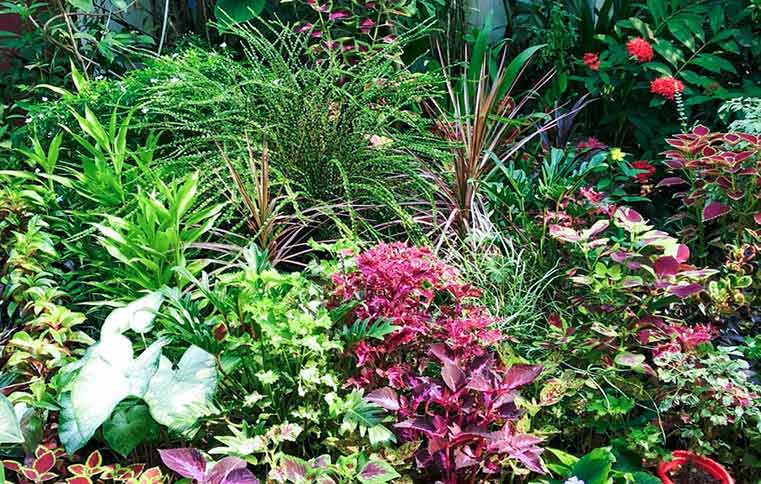 Mrs. DebBarma does her gardening the organic way, minimal use of artificial and chemical pesticides. She uses normal garden soil and Normal garden soil mixed with sand, charcoal, coco pit, coco husk and a home waste compost. For composting, she uses the effective method of doing a compost of Organic waste, vegetable waste, along with Mustard cake & Soil.
For pesticides, she uses boiled neem water regularly. Neem is known for its antibacterial properties which serves excellently as a pest control liquid which she sprays on the plants. For fertilizers she uses cow dung, mustard cake and her kitchen waste.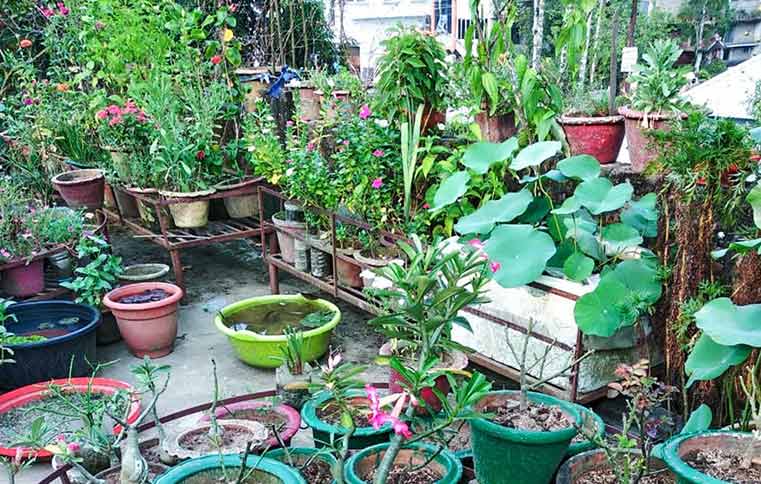 For watering a garden, she needs around 50 lit of water daily for 400 pots. But she uses water in a smart way. I really liked the idea of recycling rice water and water in which vegetables are washed to be used as a fertilizer in the garden. As Tripura is a high rainfall state, the plants do not need to be watered daily, so she stores water in big containers to use it later.
She has around 10 water plants pot, like lotus and water lily, so she has to change the water of the plants, so she re use it by watering the other plants. She likes to water the plants at the evening when it's low transpiration rate, and with water and mug. She feels that by using that we can control the pressure of water and it doesn't hamper the plant roots too!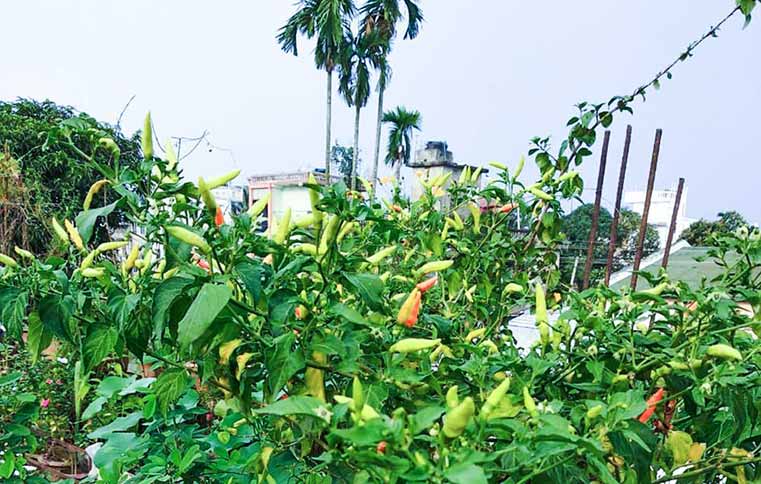 We see a wide variety in her garden. " I was always a flower planter but I have also grown my interest in developing my own small kitchen garden, along with herbs and foliage." She said.
She has flowering plants like Plumeria, Bougainvilela ,Gladiolous ,Seasonal flowers ,Water flowers, Portulaca , Orchids ,Adenium, Roses, Various types of lilies & hibiscus ; Herbs like Pudina, Tulsi ,Thai basil, Lemon grass, Brahmi and kitchen garden plants like Strawberry (selfwater system), Starfruit ,Pumpkin Chilli (different varieties), Bittergourd ,Brinjal, Tomato and the list goes on.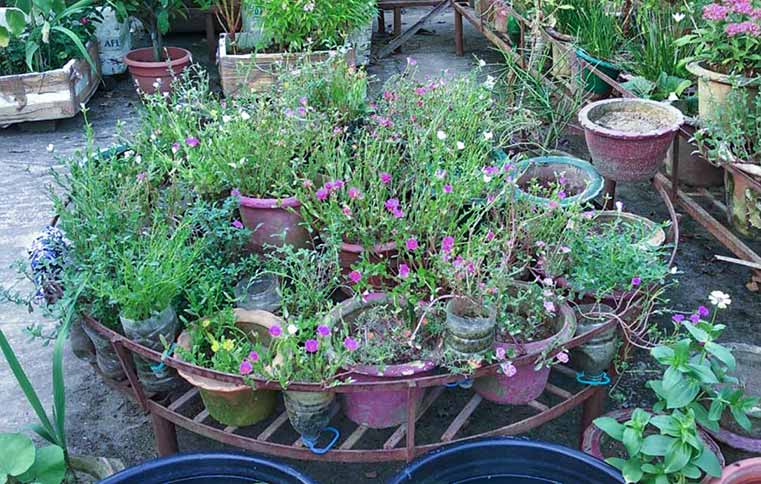 She has achieved so much at such a grassroot level efforts. She has some amazing personal achievements which gives her immense satisfaction and at the end, it's the satisfaction which we crave. Some of her achievements are-
Saving water during the rains which helps her in multiple ways like watering plants.
The herbs of my garden have always helped her to lead a healthy life.
She keeps sharing to my friends even outside my state.
On top of everything she motivates people to do gardening using right amount of water and mostly organic protecting our environment.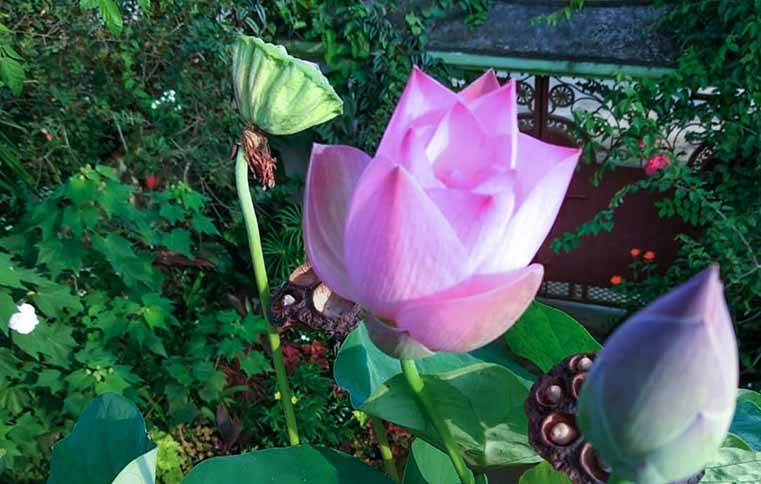 We at Parichay feel very fortunate that we meet people like Mrs. DebBarma who does something innovative to achieve the sustainable practices, which are need of the hour. The best time to do for environment was 20 years ago. The second best time is now.
If you are one such green heart or know a green heart, please share your green stories with us!