/ Green Heroes
Passion for Organic Gardening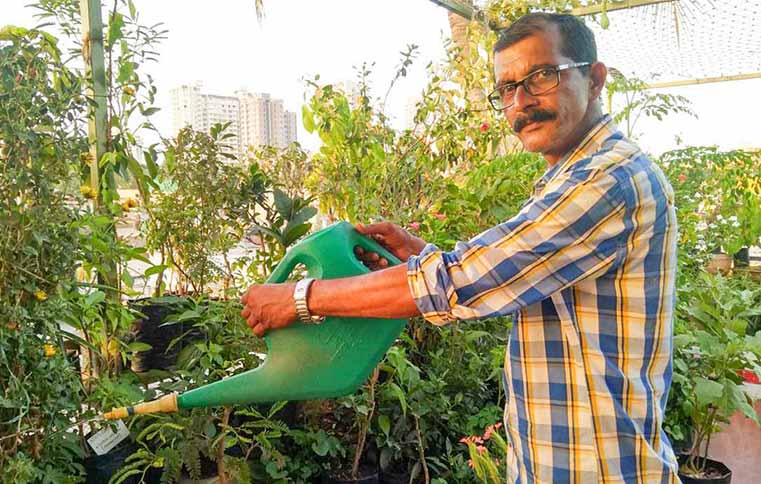 Mr. Ulhas Vasant Parab has a government job and because of that time to pursue personal hobbies is very less. But for the sheer love of gardening and composting he juggled his time well to create an organic garden which would set an example for many.
After shifting to a new house in 1989, Mr. Parab started gardening. Due to the availability of quite a land in front of the house he and his family used to grow different types of vegetable along with various flower plants and ornamental plants.
He used cowdung, urea and sufala as manure for these plants. The city development plan led to construction and in turn became the reason to shift the garden to the terrace.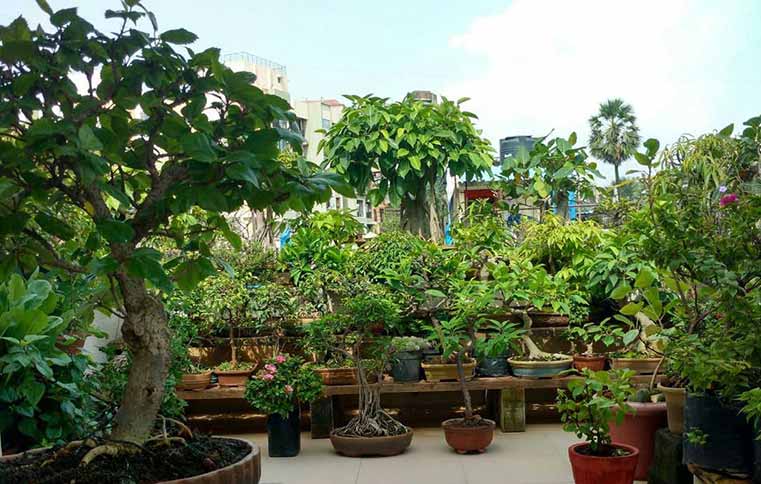 It took him time to realize the bad effects of using chemical fertilizers and after reading some books and gaining knowledge Mr. Parab was able to step into the world of organic gardening.
He was trying to make compost from the green waste in the house from last 3-4 years but there wasn't any consistency in the process. For the last one and half year he was only using the compost made from vegetable waste in the house as well as waste collected from vegetable vendors.
The compost he made is a mixture of vegetable waste compost, vermi-compost, cowdung manure. He informs of using the red soil found in kokan region. During the plantation of trees in pots and grow bags there is 30% of soil, 30% of coco-pit, 30% a mixture of cowdung manure, compost and vermi-compost and remaining 10% is neem branch.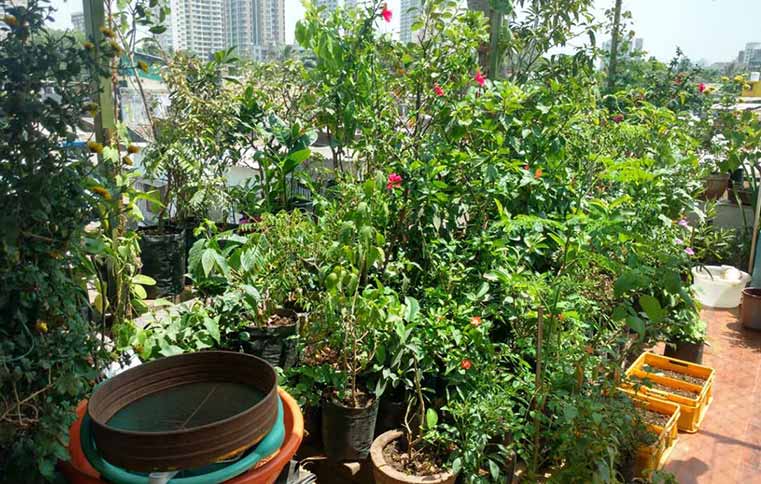 The amount of water it takes to water the plants in the garden is 50-60 liters every day. "The preferred time to water plants is in the evening and only the amount essential for them" says Mr. Parab. In summer the plants are watered twice on alternate days.
The pipelines used to water the plant has a very small and tapering nozzle to avoid any wastage of water. He uses the water from washing vegetables, grains and meat for the plants. The total cost of maintaining and growing this terrace garden is not more than 500 rupees per month.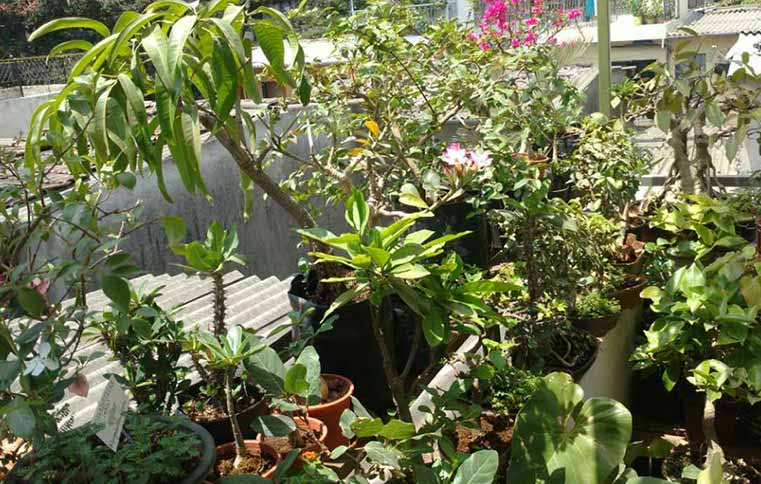 The compost is prepared in plastic buckets and crates. The green waste is the bottom layer of 3-4 inches and bioculum, a bio culture with a ratio of 1000:1 is added on top of it followed by a handful of soil forms the compost.
The garden is graced by more than 500 trees including nearly 100 bonsai. Fruit trees like mango, chiku, jackfruit, pomegranate, lemon, pineapple, jam, jambhul, coconut, Surinam cherry, Barbados cherry are planted in the garden.
The garden also has flower plants like rose, mogara, jai, jui, aboli, shevanti, jaswandi, chafa. The garden also has many types of vegetables and medicinal plants.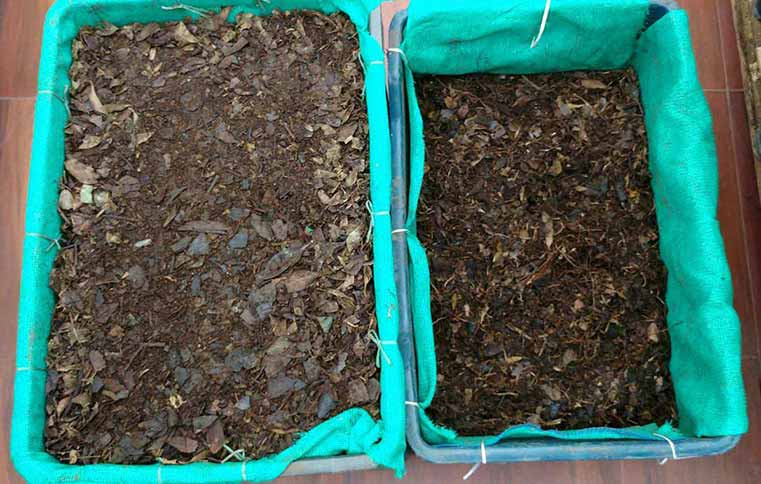 People have this wrong conception that using organic fertilizers won't produce much yield. Use of chemical fertilizers over the years results in the degradation of soil quality while organic fertilizers make the soil richer giving more yield.
Many relatives, friends have praises for Mr. Parab seeing the amount of work and efforts put in developing an organic garden. Mr. Parab feels satisfaction in preaching his work through social media platforms and in schools where imparting the knowledge of composting is important.
Man being a social animal and a part of the ecosystem it's our duty to give back to the nature. Mr. Parab is happy to have made friends with likeminded people who enjoy organic gardening. Protection of nature and environment gives him the strength to continue his work of organic gardening and inspire many people in this path.